Yadōkai (夜道怪) is a human-like yokai.
Cast
Legend
Yadokai are Japanese beggar monks from Mount Koya who traveled throughout Japan and preached Buddhism, was derogatory called Yadōkai if they had done damage, mischief or broken the law.
History
5th Anime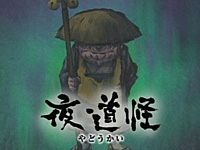 Yadōkai appears in episode 52 of the 5th anime adaption, Fear! Yadōkai.
He makes another appearance in episode 79,Tenacity of Mystical Snake! Tsuchinoko!!. In this episode, he is chosen as the 8th of the chosen 47 Yōkai Warriors of Japan and the representative of Saitama. His mark is located on his chin.
Trivia
In the anime he's called "Shadow Man" by Kitaro and his friends.
That bag of his contains large rats.