You know, before I watched "Gegege no Kitarō: Jigoku-hen" (episodes 109-115 of the 80s series), I envisioned Nezumi's human mother a pretty kitchen maid looking like her: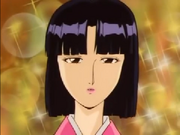 Being a "halfie" (half human/yokai). I sometimes thought his mother was a beautiful human woman seduced in bed by a rat-yokai like an incubus. And the poor girl tries to hide her pregnancy from the other servants and master - Pregnant out of wedlock is greatly frowned upon in Japan. And worse after the birth, people would have branded her a witch for bearin' a halfie child. So without thinkin' and because of motherly love, she row away in the night. And on an island, she just....*sniff* died of sickness & exhaustion; it's my hypothesis for here: "In the most official version, the one used for his profile in Kitaro's Daihyaka (鬼太郎大百科), Nezumi Otoko was mysteriously born as a human baby on an island populated only by rats. That's it. End of story."..quite the canundrum, huh?
Ad blocker interference detected!
Wikia is a free-to-use site that makes money from advertising. We have a modified experience for viewers using ad blockers

Wikia is not accessible if you've made further modifications. Remove the custom ad blocker rule(s) and the page will load as expected.