Taimatsumaru (松明丸) is a fire bird Yōkai.
Appearance
Taimatsumaru is a giant bird with a long tail made entirely out of orange fire. It has red eyes, an orange beak and matching feet that has red talons. Its crest and eyebrows are made of yellow flames instead.
Personality
History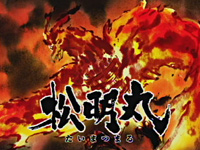 Taimatsumaru appears in episode #36 of the fifth anime adaption, Medama-Oyaji's Rescue.
Abilities
Legend
Gallery
References