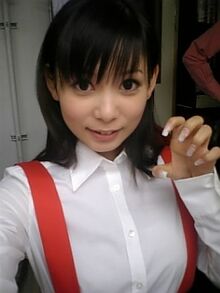 Shoko Nakagawa (中川 翔子 Nakagawa Shōko, born May 5, 1985 in Tokyo), is a Japanese tarento (media personality), actress, voice actress,illustrator, and singer. She is also known by her nickname Shokotan (しょこたん).
She provided the voice of Neko in the "Hakaba Kitaro" anime.
Other roles
Disney's Tangled (Japanese dub) as Rapunzel
Trivia
Ad blocker interference detected!
Wikia is a free-to-use site that makes money from advertising. We have a modified experience for viewers using ad blockers

Wikia is not accessible if you've made further modifications. Remove the custom ad blocker rule(s) and the page will load as expected.