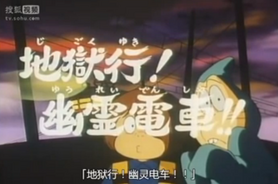 Ghost Train (ゆうれい電車, Yūrei densha) is a GeGeGe no Kitarō story that first appeared as a chapter of the Shonen Magazine run. The plot is a rewrite of the second half of the rental manga story In the Face of the Enemy. It has been adapted for the 1968, 1985, 1996 and 2007 anime versions of "Gegege no Kitarō".
Characters
Plot
Remakes
Manga
Anime
Episode 7 - Ghost Train (aired February 14, 1968)
Episode 6 - Hell Journey! The Ghost Train!! (aired November 16, 1985)
Episode 53 - Cemetery journey: Ghost Train! (aired January 19, 1997)
Episode 9 - The Ghost Train Goes to the Other World (aired May 27, 2007)
Gallery
Trivia
Ad blocker interference detected!
Wikia is a free-to-use site that makes money from advertising. We have a modified experience for viewers using ad blockers

Wikia is not accessible if you've made further modifications. Remove the custom ad blocker rule(s) and the page will load as expected.