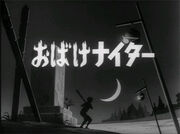 Ghost Nighter (Obake Nightaa, おばけナイター) is an episode of the 1968, 1985, and 1996 anime version of "Gegege no Kitarō".
Characters
Plot
                                                            NOTE: This section focuses on the 1968 version of the anime.
                                                                                   This section is under construction.
Trivia
This is the first episode of the 1968 anime (making it the first episode of the franchise). And also the 26th episode of the 1985 anime.
The 1996 version was made as a theatrical film.
Gallery
Ad blocker interference detected!
Wikia is a free-to-use site that makes money from advertising. We have a modified experience for viewers using ad blockers

Wikia is not accessible if you've made further modifications. Remove the custom ad blocker rule(s) and the page will load as expected.